Attention for OOH Advertising
Attention for OOH and DOOH is the collection of eye gaze data from the general public. Recorded data is translated into attention metrics using machine learning models, to measure the attention people are paying to street-based OOH and DOOH advertising.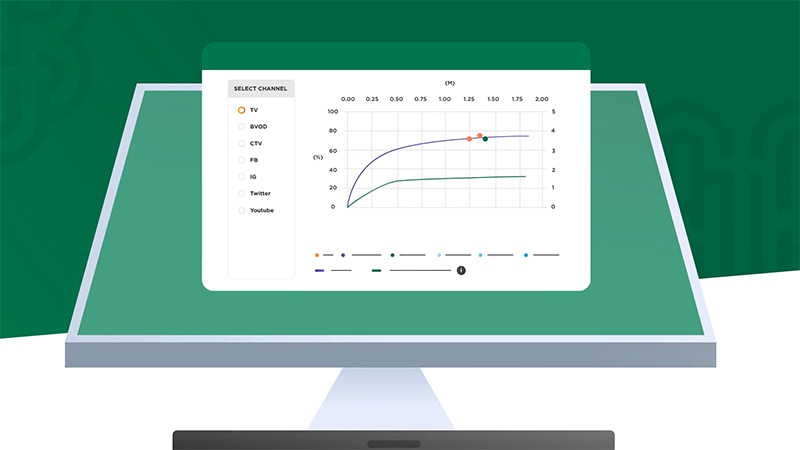 The value of attention
Plan and predict the amount of attention your OOH and DOOH advertising campaigns are likely to attract.
Amplified Intelligence's human attention metrics will uncover the gap between attention and assumed attention. With a clearer picture of audience focus, you can compare your attention data with reach and frequency to build a confident media mix picture.
Amplified attention offers a true omnichannel comparison.
Fast attention facts
Brand growth and sales goals need at least some level of sustained human attention, yet most people:
are easily distracted

switch focus continually

focus less as time passes.
To uncover the attention truth for different environments,
we collect 3 types of
human gaze data:
Active Attention
Looking directly at the ad
Passive Attention
Eyes on screen but not on the ad
Non Attention
Eyes not on the screen or the ad
Attention for Out of Home Advertising
The outdoor advertising environment is ubiquitous, particularly in metropolitan areas. It uses landscape ownership and street furniture networks to capture the attention of people as they go about their daily lives – commuting, exercising, or grabbing a coffee.

Streets are diverse and busy places so it will come as no surprise that Out of Home advertising attracts varying levels of attention depending on:
– The location of the OOH or DOOH fixture
– The person's direction of movement past the fixture
– Digital versus static.
By understanding the attention value of each of your OOH and DOOH fixtures, pricing your ad inventory just became a whole lot clearer.
How others have used attention in OOH environments
In 2022, QMS approached Amplified Intelligence to build a proof of concept for measuring human attention to advertising in the Out Of Home environment, with a view to identifying a scalable and affordable solution for collecting attention data.

A successful pilot was run at bus stops in Broadbeach, Burleigh Heads and Surfers Paradise in Queensland, Australia. In rain and sunshine, day and night.

"The pilot study was a real success. It met all statistical requirements, meaning it now can be validated and scaled." – Karen Nelson-Field, CEO, Amplified Intelligence
"Accountability is one of the key benefits of DOOH and we're excited to be leading the way with cutting-edge research that gives greater insight and understanding of our assets to help drive effectiveness for our clients." – Christian Zavecz, Chief Strategy Officer, QMS Media
"This work adds to the growing body of evidence showing that attention is a highly nuanced metric that enables more effective creative, planning and buying strategies, and decisions."
– Dr Karen Nelson-Field, CEO, Amplified Intelligence
Real people. Real world. Real attention.
Using motion detection cameras positioned to look into and away from OOH and DOOH fixtures, Amplified can detect body and face landmarks and use this footage to estimate gaze within prescribed zones of activity.

Amplified Intelligence collects and maps a multitude of factors that influence the intensity of attention paid to an ad. We call them Attention Attributes. Some of these include common user and device behaviours such as;
Active attention

Ad visibility

Attention shift

Scroll speed

Ad coverage

Peak attention

Passive attention

Gaze distribution.
All of our attention models are collected and trained by the same mathematical values according to the same academic definition, ensuring true omnichannel attention measurement.
Learn more about Our Technology.
Want to learn more?
Why not get in touch with our Customer Success Team and organise a time to discuss the role attention metrics can play in your future campaigns. Our team are dedicated to ensuring you understand the value attention measurement can provide, how you can apply it and match you with a solution that will deliver meaningful change and the commercial goals you are striving for.