Attention for video streaming services is the collection of eye gaze data from people as they watch their chosen video service, also known as OTT, BVOD and CTV. Recorded data is translated into attention metrics using machine learning models to measure the attention people are paying to advertising on their streaming service.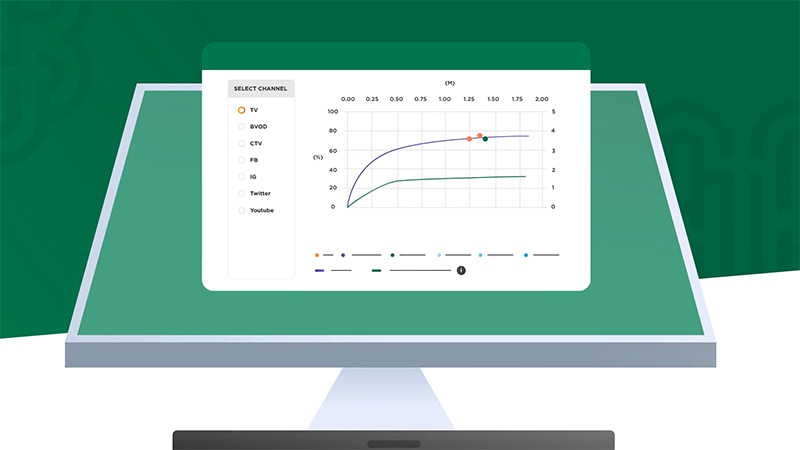 The value of attention
Plan and predict the amount of attention your video streaming advertising campaign is likely to attract.

Amplified Intelligence's human attention metrics will uncover the gap between attention and assumed attention. With a clearer picture of audience focus, you can compare your attention data with reach and frequency to build a confident media mix picture.
Amplified attention offers a true omnichannel comparison.
Fast attention facts
Brand growth and sales goals need at least some level of sustained human attention, yet most people:
are easily distracted

switch focus continually

focus less as time passes.
To uncover the attention truth for different environments,
we collect 3 types of
human gaze data:
Active Attention
Looking directly at the ad
Passive Attention
Eyes on screen but not on the ad
Non Attention
Eyes not on the screen or the ad
Attention for Video Streaming
It started as catch-up TV. The free-to-air show you missed, available to watch at your own leisure and, if it originally aired on a commercial broadcast channel, interspersed with non-skippable ads.

BVOD fits neatly into the world's insatiable appetite for on-demand services and providers now offer a full range of digital-only programming. The sector is growing fast.
Watched on a range of devices, study results show:
– BVOD on Mobile attracts high levels of active attention
– The next highest is BVOD on connected TV
– BVOD is a low wastage platform, experiencing low levels of non-attention.
Real people. Real life. Real attention.
BVOD attention is collected across two types of devices: mobile and connected TV.

For mobile collection, Amplified's gaze tracking system, flips the phone camera around to the viewer. The viewer logs into their BVOD account as they normally would, while Amplified intercepts the ad load with test ads and tracks their gaze. And in case you're wondering, the whole process follows strict privacy and GDPR requirements.
For connected TV collections, bespoke hardware and webcam are used in conjunction with the television to collect attention. The camera records collection participants while they sit on their sofa and watch their screens. Attention can be measured on anything that appears on the screen – broadcast content and ads. While there is a minimum collection period to ensure enough data is collected, there is no maximum. Collections can run for long periods over seasonal sporting periods or special events.

Amplified Intelligence collects and maps factors that influence the intensity of attention paid to an ad. We call them Attention Attributes, some of them include:

Active attention

Ad visibility

Attention shift

Scroll speed

Ad coverage

Peak attention

Passive attention

Gaze distribution.
All of our attention models are collected and trained by the same mathematical values according to the same academic definition, ensuring true omnichannel attention measurement.
Learn more about Our Technology.
How others have used attention in BVOD applications
In 2021, Nine engaged Amplified Intelligence to run an audience attention collection showing thousands of ads across its linear broadcast channel, BVOD on Mobile and BVOD on connected TV for 9Now. The collection looked at active, passive and non-attention, and Short-Term Lift to examine purchasing behaviour.
Results were released in 2022, showing BVOD on mobile as attracting high levels of active attention. Across all three types of Nine TV delivery, levels of non-attention were at a low 29 percent.
The Seven Network ran a longer 2-month attention collection in 2022 over programming for The Olympic Winter Games Beijing 2022, AFL, The Voice Generations and SAS Australia. The biggest of its kind in Australia, the results also showed that TV and BVOD channels hold attention over ad length, it takes longer for the attention to decline.
"By measuring consumer attention signals, marketers are able to improve their return on investment while also further enhancing the viewing experience for audiences through impactful storytelling. Viewability is still critical in advertising but to get noticed by highly receptive audiences, it's time we all measure and prioritise attention." 
– Charlotte Valente, Chief Marketing Officer, Seven West Media
"This work adds to the growing body of evidence showing that attention is a highly nuanced metric that enables more effective creative, planning and buying strategies, and decisions."
– Dr Karen Nelson-Field, CEO, Amplified Intelligence
Want to learn more?
Why not get in touch with our Customer Success Team and organise a time to discuss the role attention metrics can play in your future campaigns. Our team are dedicated to ensuring you understand the value attention measurement can provide, how you can apply it and match you with a solution that will deliver meaningful change and the commercial goals you are striving for.