Attention for cinema is the collection of eye gaze data from cinema patrons. Recorded data is translated into attention metrics using machine learning models, to measure the attention people are paying to pre-show cinema advertising.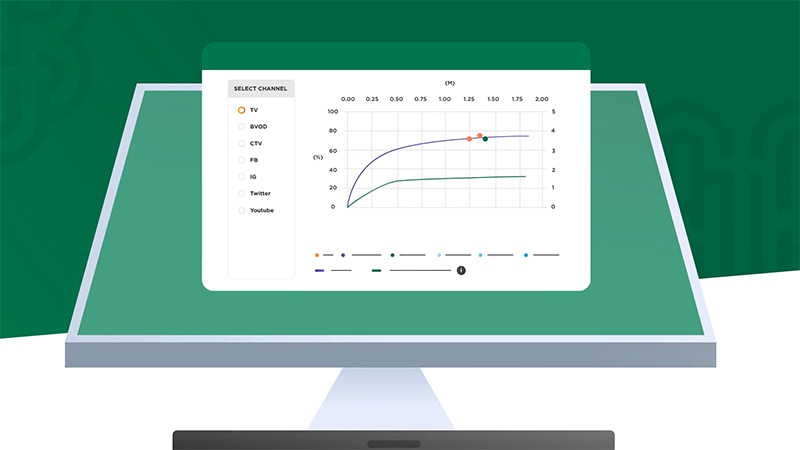 The value of attention
Plan and predict the amount of attention your cinema advertising campaign is likely to attract.
Amplified Intelligence's human attention metrics will uncover the gap between attention and assumed attention. With a clearer picture of audience focus, you can compare your attention data with reach and frequency to build a confident media mix picture.

Amplified attention offers a true omnichannel comparison.
Fast attention facts
Brand growth and sales goals need at least some level of sustained human attention, yet most people:
are easily distracted

switch focus continually

focus less as time passes.
To uncover the attention truth for different environments,
we collect 3 types of
human gaze data:
Active Attention
Looking directly at the ad
Passive Attention
Eyes on screen but not on the ad
Non Attention
Eyes not on the screen or the ad
Attention for Cinema Advertising
Cinema is designed to be a high attention environment. The door is closed, the lights are down, all the seats face forward, people more often than not remain quiet, and the screen is massive. It behaves differently to other media channels.
– More people watch ads actively
– There is no decay of active attention over the length of the ad
– Attention is held throughout the entire pre-show
Cinema is a zero wastage environment – 80% active attention and 20% passive attention.
You get all the eyeballs you pay for.
Real people. Real cinemas. Real attention.
Using camera hardware selected for face detection in a low light environment, Amplified ran two pilot programs across Australia and New Zealand to test our collection capability for cinema. From this, scaled data collection has been rolled out, including a movie mix across 3 different genres and a full pre-show including exhibitor content, local ads, national ads and movie trailers.
Amplified Intelligence collects and maps factors that influence the intensity of attention paid to an ad. We call them Attention Attributes, some of them include:

Active attention

Ad visibility

Attention shift

Ad coverage

Peak attention

Passive attention

Gaze distribution.
All of our attention models are collected and trained by the same mathematical values according to the same academic definition, ensuring true omnichannel attention measurement.
Learn more about Our Technology.
How others have used attention in cinema ad environments
In 2021 Val Morgan Cinema teamed up with Amplified Intelligence to determine whether reliable human attention to advertising data could be collected in a cinema environment. Two pilots were run to test the veracity of the collection method and the quality of the data before a scaled rollout commenced.
Val Morgan Cinema Advertising's entire marketing and promotional narrative is now underpinned by its standing as a high attention environment. The R&D and bespoke collections with Amplified not only changed the way they approach sales but allowed cinema advertising to take its place in true omnichannel comparison.
"We're delighted to partner with Amplified Intelligence to provide independently-verified cinema attention metrics relative to other screens." – Guy Burbidge, Managing Director, Val Morgan Cinema

"This work adds to the growing body of evidence showing that attention is a highly nuanced metric that enables more effective creative, planning and buying strategies, and decisions."
– Dr Karen Nelson-Field, CEO, Amplified Intelligence
Want to learn more?
Why not get in touch with our Customer Success Team and organise a time to discuss the role attention metrics can play in your future campaigns. Our team are dedicated to ensuring you understand the value attention measurement can provide, how you can apply it and match you with a solution that will deliver meaningful change and the commercial goals you are striving for.