With attention metrics now highlighting the disparity between reach volume and actual attention volume, many media planners are not only wasting ad budgets, but also impacting commercial outcomes and brand growth. Karen Nelson-Field, Founder and CEO of Amplified Intelligence offers a practical guide to marketers on how to use attention-adjusted reach curve to reveal the way audiences truly view ads, filling the gap left behind from traditional reach models.
Attention measurement is everywhere and rapidly changing how digital marketing is assessed in one transformative swoop.
Evolution has moved forward at such speed that leading industry bodies have stepped in to pull together simple explainers: including the Internet Advertising Bureau's (IAB) attention guide and a soon-to-launch vendor atlas from the Advertising Research Foundation (ARF).
But while these efforts are helping to build basic awareness of attention metrics, there is still confusion around what they mean for traditional reach-based media planning and buying.
This is the challenge attention-adjusted reach curves (AARCs) solve. Enabling brands, advertisers, and agencies to compare standard reach measures with true human attention insight, reach curves can split the difference between performance expectation and reality.
Recognising the value of this requires a deeper understanding of the measures that sit behind standard reach calculations, and their inaccuracies.
The trouble with traditional reach
Traditional methods used to gauge reach have revolved around time-in-view data, which makes assumptions about how long viewable ads are on a user's screen and categorises them as signals of engagement. Not dissimilar to supposing a supermarket shopper has considered every item on a shelf just because it was in their line of sight.
This issue isn't news to recent attention converts; in fact, the push to shift away from imprecise proxy measures is a significant motivator for greater adoption of attention metrics. But many (old and new) vendors joining the attention measurement movement are creating complications by continuing to stick with the conventional reach-estimate model.
Models deployed by these vendors only assess the binary probability of how many impressions an ad achieves and the number of people who could, or should have, seen the ad. As more sophisticated attention measures highlight the gap between viewable potential and actual interaction, vague relationships such as these aren't enough anymore.
How do AARCs help?
The goal of AARCs is defining a better course for effective ads. In contrast to viewability-centric planning, such as reach and frequency, human attention-based analysis looks at the relationship between specific ads, formats, and platforms, and the way audiences truly view ads, filling the gap left behind from traditional reach models.
Tools capable of measuring real ad interaction essentially evaluate how much engagement (attention volume) can be achieved for any budget. By applying an AARC, solutions down-weight the volume of impressions in line with the reality of attention paid, so that media buyers can see accurate reach curves using their own systems.
Literally making all reach equal, resulting insights can then be set against traditional reach estimates to give brands, advertisers, and agencies the granular understanding needed to make precise decisions.
Are there any pitfalls to watch out for in the attention economy?
The obvious issue is that not all solutions offer the same data quality , with a recent study by the ARF finding only half of attention vendors using tools that capture live human-level data, such as eye tracking and other neuroscientific methods. Several solutions are striving for scalability by relying heavily on device-level data including scroll speed and screen orientation, as well as old staples like time-in-view. Models that use little to no human data at all, are once again making broad, non-human based , assumptions about consumer behaviour.
The most sophisticated vendors are keeping 'human-first' data centre stage: collecting ground truth data on real-time ad interaction in non-simulated environments (such as Facebook or YouTube) directly from consenting individuals and then combining it with other device-level insights. Evaluated together, comprehensive data pools provide a stronger basis for accurately distinguishing between active, passive, and non-attention.
Keeping performance on track
Topping the list of benefits is, of course, a clear picture of the difference between what buyers believe they are purchasing (based on reach estimates), versus the actual attention ads yield. As shown in the diagram below, this void can be sizable; illustrating how easy it is for activity steered by reach data alone to cause budget wastage.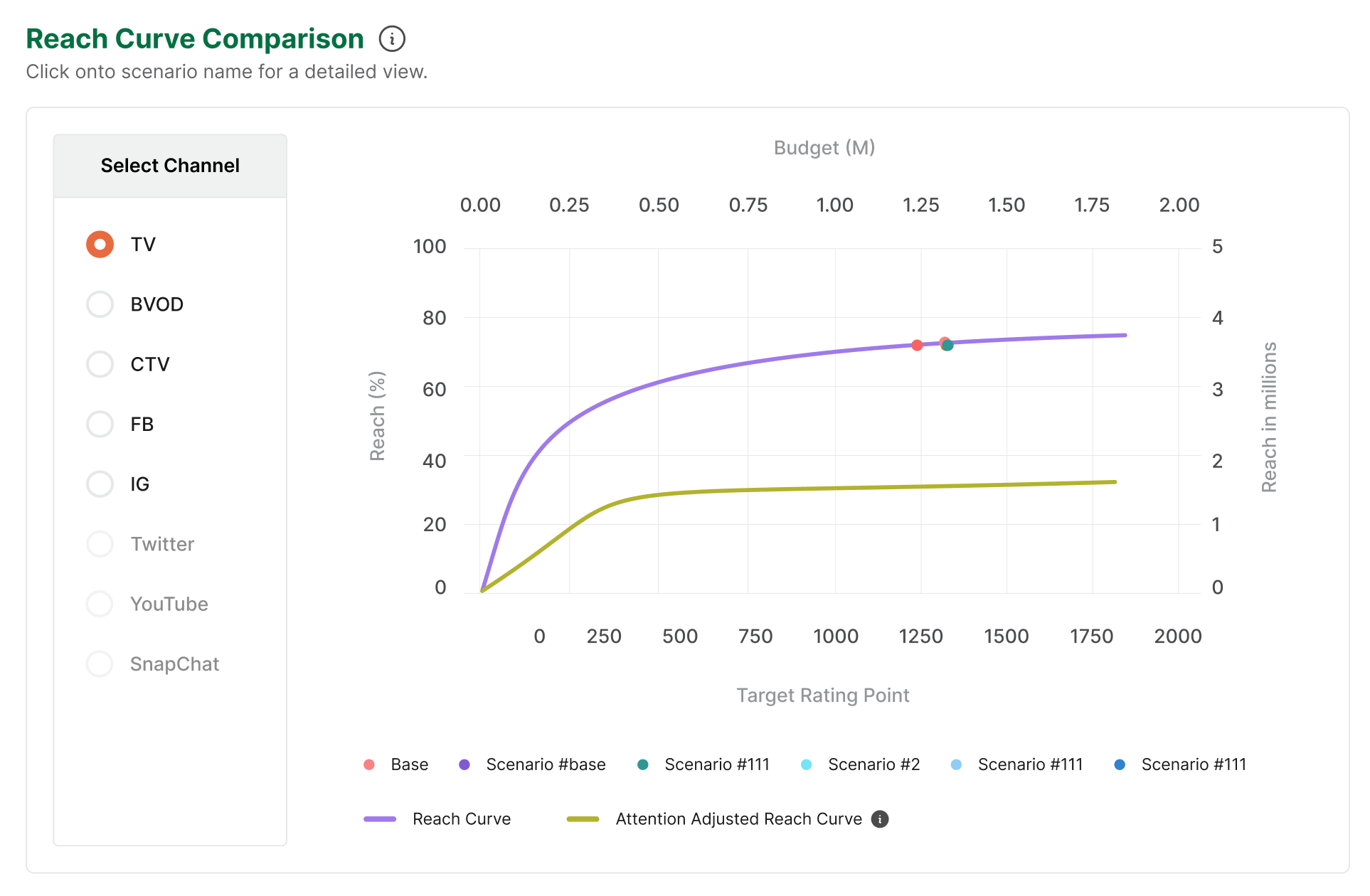 Looking at the standard (purple) and attention-adjusted (green) reach curves, it's clear both follow an upward trend as investment rises. There is, however, a consistent near-40% difference between expected reach and attentive reach. Access to this comparative insight will equip in-house and agency teams with the context to efficiently configure their media plans; enabling them to quickly tailor strategies towards whichever channels and formats will deliver the best results, in addition to driving media schedule efficiency and thereby better ROI.
Beyond planning, AARCs can also be applied to optimise activity at the buying stage; enabling efficient investment decisions by running intelligent pre-bid analysis. Used to power probabilistic assessment of ad inventory before purchasing, data can help deliver proactive insights into which placements are likely to meet attention and wider campaign goals, with budget allocated accordingly. 
Making measurement progress doesn't have to mean abolishing long-established structures. Adding attention data to this mix, however, is paramount to narrow down those parameters. Using AARCs, media buyers can ensure they have complete visibility of what is on the media table; allowing them to choose whichever placements will give them the biggest slice of the attention pie, rather than paying for a full serving and being left hungry.
You can utilise Amplified Intelligence's market-leading Attention-Adjusted® Reach Curve functionality via the attentionPLAN media planning tool. The only media planning tool that allows you to plan your media and marketing strategies using the power of human attention data.
This article first appeared on Performance Marketing World and is re-published with permission.