In this column for WARC, Dr Karen Nelson-Field presents several case studies that provide the robust evidence, or 'Meaty Proof' that attention measurement can achieve stronger business performance in areas such as profitability.
At the ARF AUDIENCExSCIENCE conference last month, it became apparent that attention measurement has progressed beyond vendors and agencies promoting the value of attention. Advertising industry bodies are now actively involved in formalising and codifying attention metrics for brands and agencies to adopt. This is a positive development especially as just a few years ago, the industry was operating blindly with measurement tools that, at best, performed only half of their intended job.
However, it's evident to me that most reported case evidence still isn't deep or tangible enough. To date, use cases have chiefly relied on post-campaign surveys to evaluate metrics like increased recall, purchase intent, brand consideration, brand uplift perception, brand lift, familiarity, awareness, brand affinity and others. These brand effects have value as signifiers of campaign success, and any increase in proof of how attention data works is valuable, yet there is growing scope to go much further than survey-level insight.
As more brands and agencies incorporate attention data into their media planning and buying systems, we are now seeing stronger evidence that demonstrates the positive impact of attention measurement on business effects such as profitability and processes.
Where brand effects provide evidence of how well people remember or recognise information that CMOs can use to evaluate the effectiveness of messaging and branding, business effects give CFOs a clear idea of the financial or strategic impact on an organisation, in the context of the organisation's goals and objectives.
In this article, I refer to this kind of evidence as 'Meaty Proof'.
Meaty proof is a colloquial term, a figure of speech used in legal settings to describe substantial and compelling evidence that supports a particular claim or case, establishing its validity and credibility. The term "meaty" is used metaphorically to suggest that the evidence is significant and weighty, making it hard for the opposition to argue or refute. The opposite of meaty proof could be described as light or insufficient evidence. Such evidence is valid but not strong enough to, beyond doubt, support a claim or argument and therefore carries less weight in the judgment of a decision.
For CFOs, and those in procurement, the bottom line is paramount. The good news is that we are now witnessing substantive evidence of positive impact at a deeper level. This meaty proof reinforces the validity and credibility of using visual attention data appended to existing workflows. Here are a few examples shared with us by our customers.
More sales at a lower cost of goods sold, and an edge on competitors
One of OMG's clients had been observing a correlation between the volume of sales and the cost per sale, but they noticed that above a certain volume of sales the average cost per sale would rise quickly which was impacting their profitability and the overall success of their business. Initially, they tried identifying the obvious 'quality' placements that had a strong sales signal, however their competitors were also bidding on them making these placements expensive which didn't help the bottom line. OMG introduced them to visual attention data and its application in the attention marketplace. Using this data they adjusted the creative and weights to find new formats that that competitors had not identified.
As a result, they were able to achieve higher sales at a lower cost per sale. So it improved sales performance, their bottom line and their ability to stay ahead of competitors' share of voice.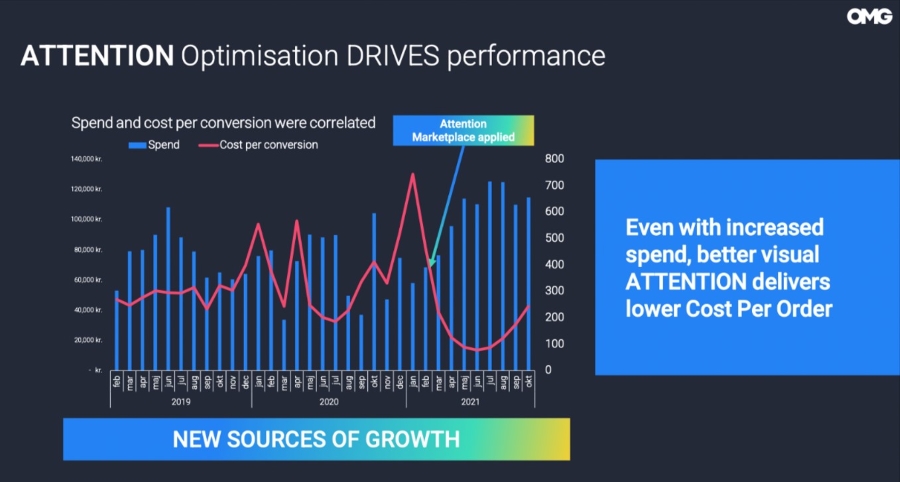 Faster achievement of sizable stretch targets with lower-than-expected cost-per-acquisition
A European postal and financial services brand (An Post) had been using the same media platforms for many years but were failing to see any sustained growth in sales. On suggestion of their agency, Red C, the company used visual attention data to completely recalibrate their media approach. They risked moving their budget to formats that were identified as 'better performers' with a better 'attention window' in the hope their messages would have a better opportunity to be actively viewed by their customers, which in theory should translate to incremental sales.
The brand saw excellent results across a number of products with strong performances and better than expected (reduced) cost per acquisition, even despite media inflation. They even surpassed their sales stretch targets four months ahead of schedule. The success of this new media approach demonstrates the potential benefits of using visual attention data in marketing strategies to increase sales and improve performance.
This case is a Grand Prix winner at the Irish Marketing Society research effectiveness awards 2022.
Significant savings in production resources and hard costs
A financial services brand (Irish Life) wanted to understand which formats were most effective on social platforms, particularly to help them drive mental availability.
Leveraging human attention data via their agency (Red C), they implemented a new media strategy focused on gaining more attention. They re-allocated both media dollars and human resources to brand and fame-building formats, while reducing allocation to direct response formats. They also modified the creative assets used, altered the balance between video and static formats, and lessened the quantity of organic video content shared by the business.
This strategy led to significant time and money savings in content production, positively impacting the company's bottom line. Furthermore, previously stable internal brand and audience metrics experienced notable improvements as a result of this approach.
This case is a Grand Prix winner at the Irish Marketing Society research effectiveness awards 2022.
Faster establishment of new distinctive assets, at a cost saving
A European gaming brand has always been a proponent of building distinctive assets for its products. However, they realised that vanity metrics were not the right tools for impacting memory, which is crucial for making assets distinctive. So, when the brand launched a new campaign for a new product in Q3 2022, they decided to create a new character in the hope that it would become distinctive. The brand used the visual attention data they had access to optimise the campaign media mix and redesigned the creative execution to suit the appropriate ad lengths for their chosen format.
Using visual attention data to plan their media mix delivered significant clarity, streamlined planning processes, and reduced reliance on vanity metrics. Moreover, it saved the brand a whopping €675,000 in wasted ad dollars. Despite the significant savings, the campaign drove mental availability to a new set of distinctive assets faster than expected, achieving this within just three months of the launch. By utilising visual attention data, the brand was able to make smarter media decisions and drive better outcomes, ultimately resulting in improved memory of distinctive assets.
This case has been shortlisted for All-Ireland Marketing Awards 2023.
Improved business results including amplified ESOV
The evidence presented by Peter Field and Rob Brittain in their recent publication on WARC is also meaty proof. They retrofitted attention curves to the media plans of Australian Effies Awards entrants and found that campaigns that primarily ran on higher attention platforms reported a 65% increase in very large business effects such as profitability and customer acquisition. They also found that focusing on attentive reach is critical regardless of absolute budget size and ESOV. They found that lower budget/lower ESOV campaigns tend to skew their investment towards lower attention channels (as per Fig. 3), using the cheaper CPMs to prop up impression volumes. Whilst this is well intentioned, it's damaging to campaign effectiveness because whilst the CPMs are lower, effectiveness per impression is lower still. The outcome is the campaign is less effective than it should be, further compounding the impact of a lower budget. Ultimately this is the opposite of what some of the cases have done above who have recognised that higher CPMs with fewer impressions is better for the bottom line.
Finally, and notably, the report also found that similar creative content achieved significantly more attention and better business outcomes on high attention platforms. These findings reinforce the importance of media choice in achieving effective advertising outcomes.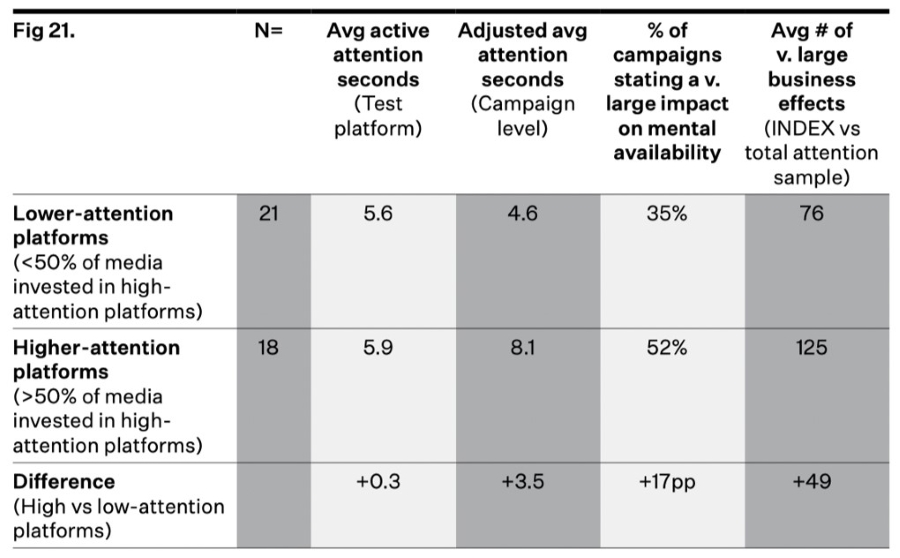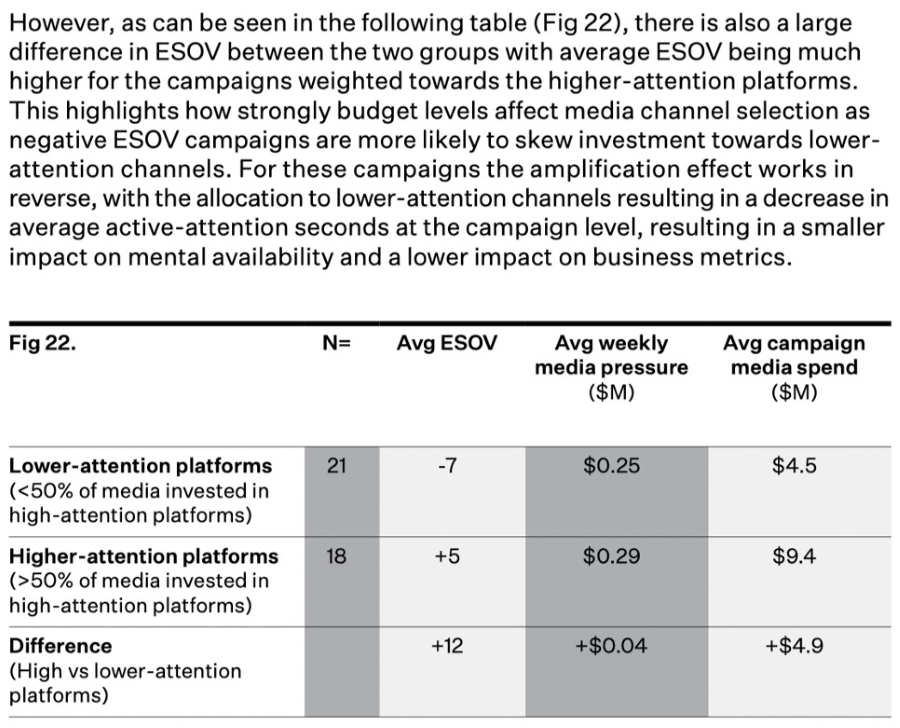 The cases presented here demonstrate a clear trend towards achieving stronger business performance at a lower cost. In a time where efficiency is more closely scrutinised than ever before, this is undoubtedly good news for CFOs. Moreover, the cases illustrate how incorporating 'time-based' visual attention metrics into existing workflows can help maximise and augment the value of time-bound ad measurements, such as time-in-view and ad length in seconds. It's clear that the industry needs more robust evidence like this to convince CFOs and procurement teams that low-cost media doesn't necessarily equate to efficiency. When we focus on business effects and align with the goals of CFOs, the industry as a whole will benefit.
This article is published with permission of WARC. You can read the original in full here and discover a wealth of other industry leading insights on their website.